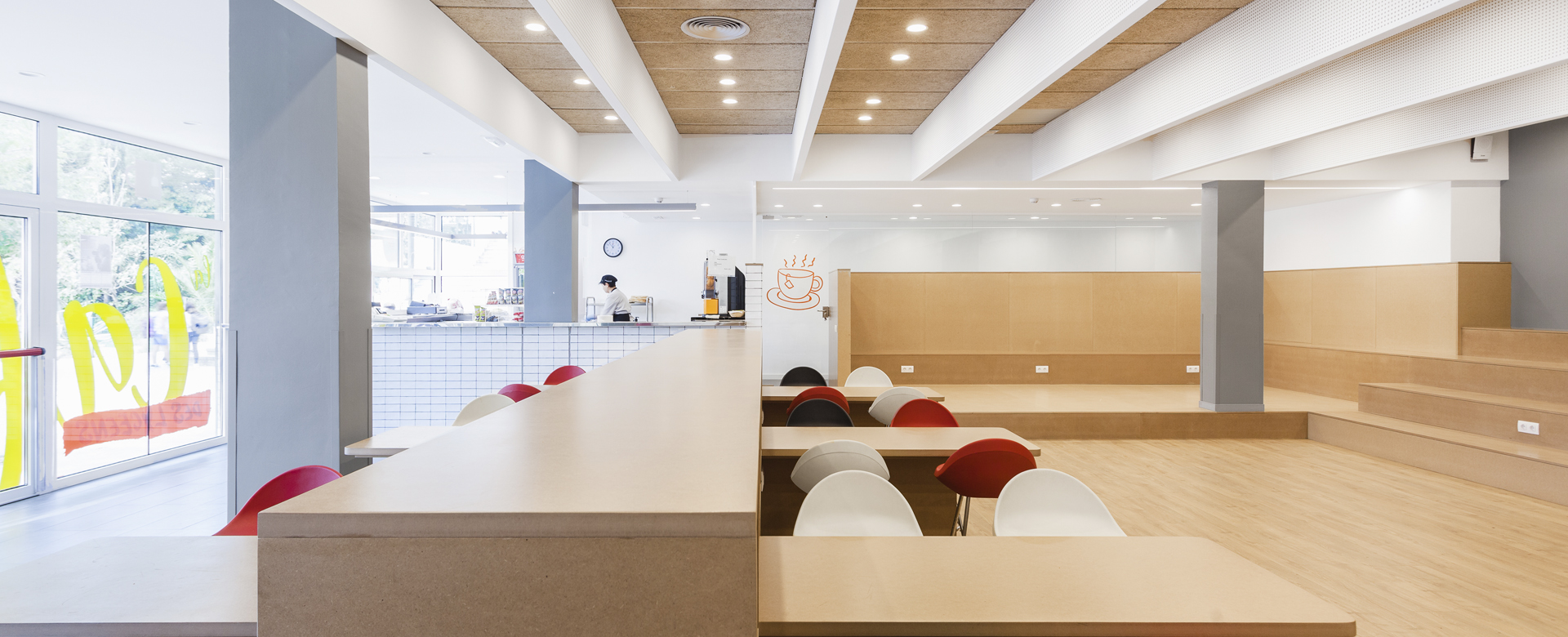 In this project, we renovated the cafeteria for baccalaureate students at the Lycée Français. This is a large room accessed through a central patio. The serving counter was originally located at the far end, near the kitchen. This left most of the room free, but was too far away from the privileged exterior space.
The cafeteria was renovated in keeping with three key goals: increase the available interior space, create a lounge separate from the eating space, and move the sales counter outside.
The first goal was reached by closing in a porch that stretched along the façade, bringing it inside the cafeteria. This space now houses the serving area; it has counters on three sides, two of which are in direct contact with the outside. This element serves as a transition between interior and exterior.
Moving the counter closer to the patio allowed the room to be divided into two areas. The first, near the outside wall, is used as a cafeteria. The space closest to the counter was left open to facilitate the movement of students. A central island separates this space from a calmer lounge area with sofas and tables, a more informal setting where students can rest, read or work. The back wall is lined with wooden stands that provides additional seating at different heights. The lowest level of these stands stretches out to one side, creating a raised platform.
One important aspect of this project is the positioning of each of the different areas. Placing the lounge at one end of the room gives its users more privacy, and keeps those at the counter from interacting with them directly. Although they are visually connected, the floors, the ceiling and the walls set them apart from one another, providing them with different atmospheres.
In collaboration with estudi nus. Pictures by Anna Galí.