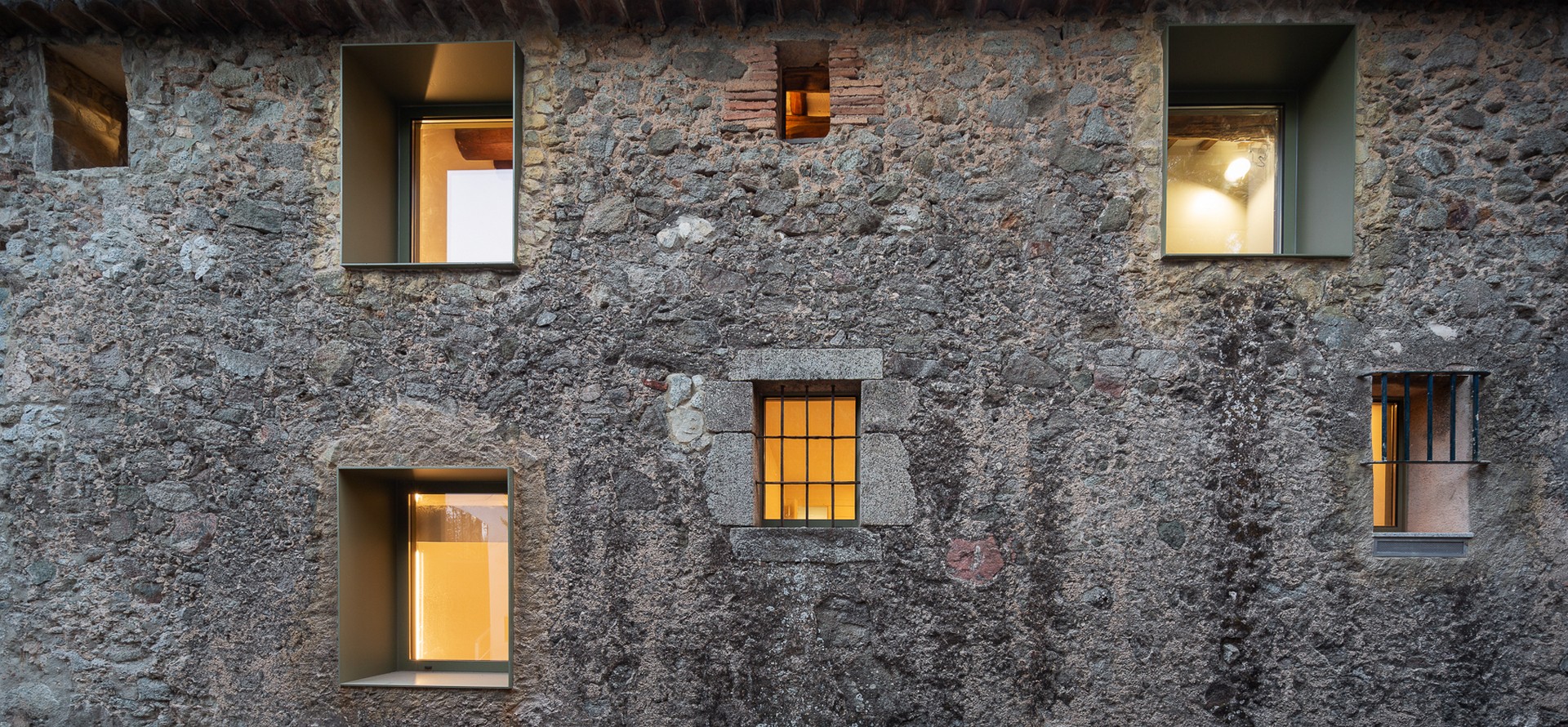 This old house in the historic centre of Premià de Dalt is squeezed into a centuries-old maze of streets. The main entrance sits on a dead-end lane, and the rear façade is on a narrow alley that's also a dead end. It's part of a row of small houses in a tiny neighbourhood.
Originally, this building was structured like a traditional Catalan casa pairal with three bays: the main spaces were in the centre, with accessory spaces on either side. However, the left bay was separated from the house years ago, leaving only the central and right bay. The house includes a ground floor and a first floor with an attic above. The outer walls are made of stone, while the load-bearing inner walls are made of hand-made brick. The ground floor is covered by broad Catalan vaults, while the first floor is covered by squared wooden beams bridged by smaller ceramic vaults. The roof is made of wooden beams and lath and covered in monk-and-nun tiles.
This house had never undergone a complete renovation. Small interventions had maintained the house, adding a new kitchen here and renovating a bathroom there without much care for existing elements; nevertheless, they hadn't had enough of an impact to destroy the historical value of the building. As a result, we encountered the old house in its entirety: the original walls, stairs, ceilings and woodwork, the old roof… Now, it was finally time for a total renovation—a big challenge!
The house was in serious need of repair. It was barely liveable, with spaces unfit for modern life, obsolete fixtures, and worn-down, inefficient structural elements with humidity problems and woodworm.
The client's demands brought us to separate the two remaining bays into separate houses. This new division was vertical, from the ground to the roof, along the shared load-bearing wall. Although many of the old doors were left visible, they were closed never to be opened again. This allowed us to build a new stairway, rethink pathways and establish new hierarchies between each house's main and accessory spaces.
Modern architecture was applied within existing spaces that were reinvigorated by this new project, with newly-discovered visual relationships, newly-drawn compositional lines and newly-created views that allowed light to penetrate spaces that had always been dark. New skylights were opened in the roof and new openings were created in the stone façade alongside the old, existing windows.
The result combines the vaulted ceilings downstairs, the beams and narrow vaults on the first floor and the crooked rafters upstairs; the stone-framed doorways; the thick, imperfect walls and rough, worn tiles; the hand-crafted doors that recall old openings and the sun-bleached shutters with new touches using metal, clean glass, smooth, flat wood, shining lights, an open kitchen, brand-new furniture, and a new layer of white paint to revive it all.
Pictures by Judith Casas.
Category
New construction