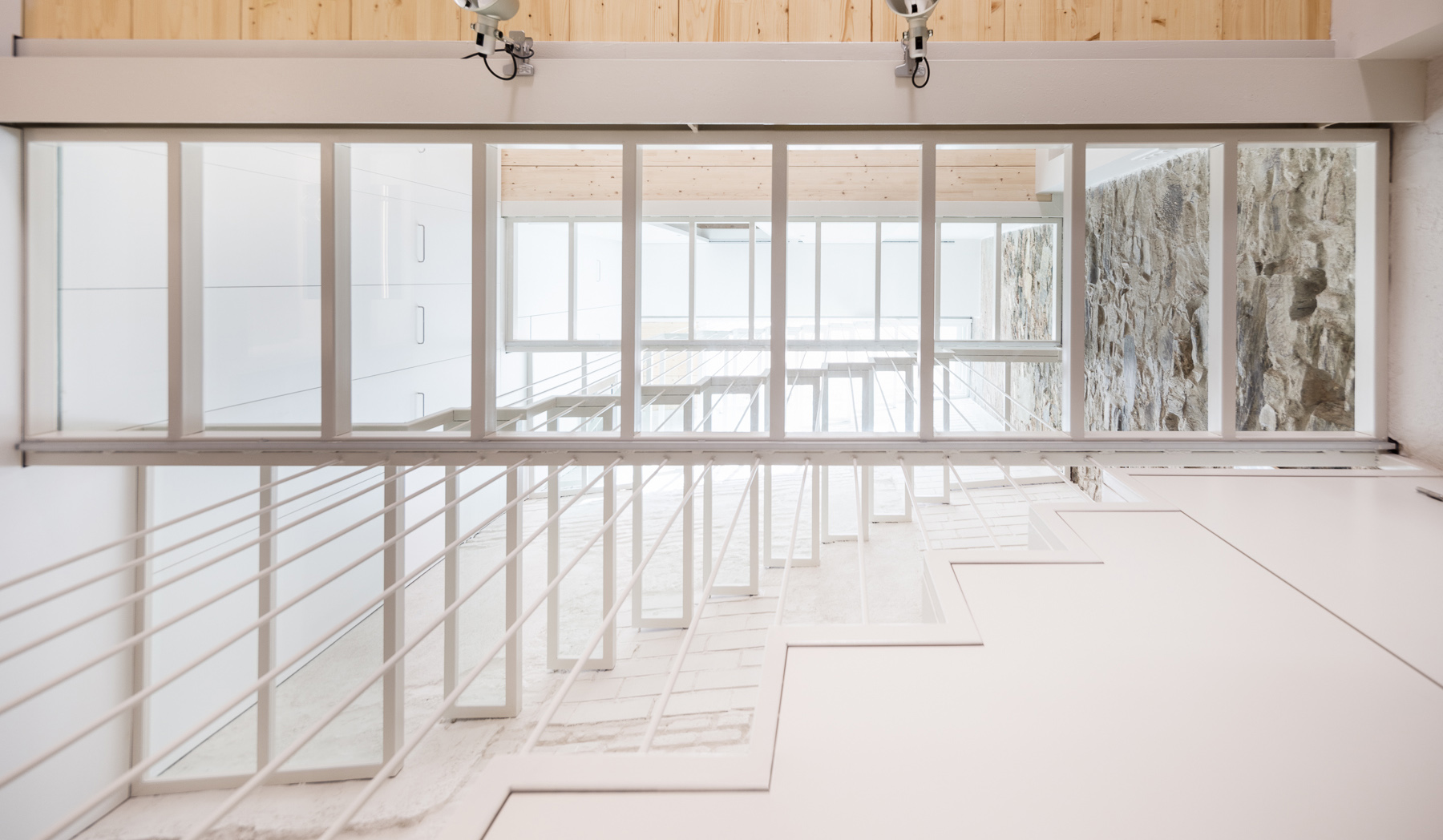 This was a remnant of the very oldest part of town. What remained seemed to indicate that it had once been a house, or part of one. Nevertheless, it no longer fit into that category. What was this space when we first encountered it? Both "garage" and "warehouse" seem too generous. It was a ruin with only half the roof still in place, sheltered by thick stone walls that had protected it from total oblivion.
The former interior was hidden behind the façade—its only window onto the outside world.
The interior layout was quite small: just over 30 m2. Nevertheless, the walls were tall. Together with the first floor, the space as a whole took on a vertical form that eagerly breathed through the crack that opened onto the street. Like a well, it stretched upwards towards a piece of sky visible overhead.
This project first returned to the preexistence of the space, eliminating any obsolete remains, rediscovering the roughness of the ageless walls and the unexpected dimensions of the lot. As if we stood in the shadow of a cliff face, the light slowly began to descend as time passed.
Without compromise, the whole rear wall –from the roof terrace to the ground floor– was reserved for a stairway with glass landings that allowed light to reach the deepest corners of the house. The main living spaces respected this decision and took their place behind it, between the stairwell and the openings in the façade. 
Downstairs, a cement floor now stretches to each of the walls, connecting them and giving meaning to the primitive stone container where this home was kept.
On one side of the stairs, following the elevation upwards, a closet serves as a kitchen, a bed, a space for installations and a dumbwaiter that extends up to the roof. At the very top, the roof terrace serves as the home's small, privileged exterior space. Nearby stands a belfry; the terrace is surrounded by the mosaic of rooves and walls of the old town. Further beyond these sit a cutout of the landscape and the arch of the sky.
Despite the narrowness of the lot, this project finds a way to make each space as ample as possible. There's the richness of the double-height living room with the chimney of a fireplace extending upwards, the views from surprising angles extending through the railing, and the play of transparencies and mirrors provided by the glass staircase. Rays of light pass through the skylight; they encounter no obstacle as they drift down to caress the clear colours of the living space with its nuances that, from now on, will remain new. 
Within the walls of the house, life is born once again.
In collaboration with Ponsfort and Anna Ortega
Pictures by Judith Casas
Category
New construction