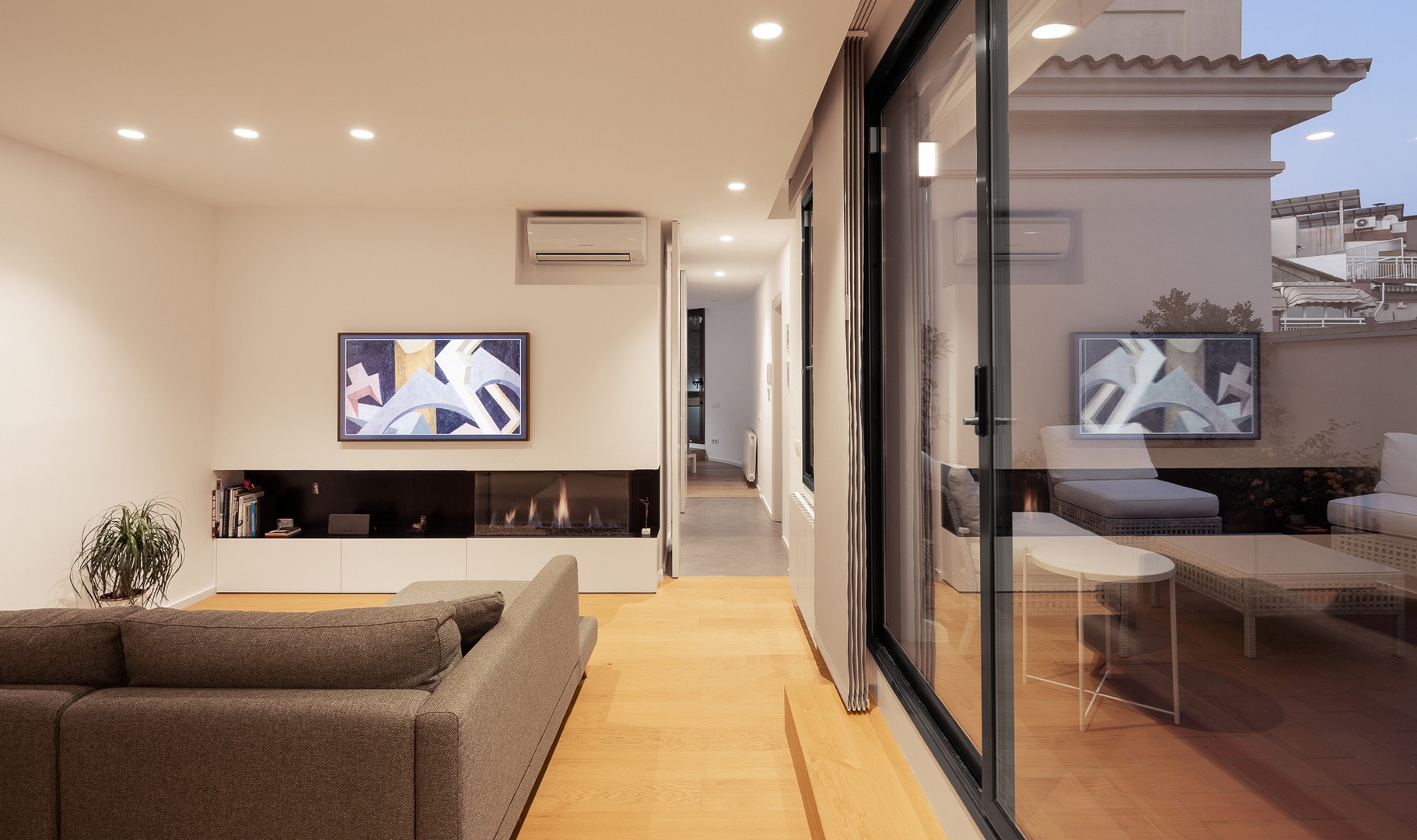 This penthouse flat sits on a corner in the Eixample neighbourhood. It consists of two concentric bands that follow the directions of the streets below and the chamfered corner of the intersection. The outer section includes three terraces, each facing in a different direction. Between them sit two rooms with views of the street.
The inner section houses the living spaces, placed one after another in a fluid, half-moon layout.
Starting with the entrance at one end, the functional program consists of a series of spaces that serve as the vestibule, mudroom and hallway closet, followed by a first bathroom, the kitchen, the living room, a second bathroom and the master bedroom. This row of living spaces interacts with the spaces from the outer section we find along the way: first, the kitchen terrace; second, a bedroom; next, the living room terrace, a study and, finally, a terrace for the master suite.
Together, these areas work as a single space, with a succession of lengthwise and crosswise views that weave together into a large floorplan. Fragments of walls, centrally-placed furniture and swinging or sliding doors define and organize sections and modulate the relationship between them.
The warm wooden floors stand out against the white furniture. Rough brickwork is left visible in the entranceway, metal frames the fireplace, and vibrating music fills the flat. The friendly interior lighting shines through the broad terrace doors, interacting playfully with the light of the setting sun. While some fixtures cast their reflections on the glass, the moon is reflected in the geometry of the home interior.
In collaboration with Espai Vives.
Pictures by Judith Casas.
Category
New construction