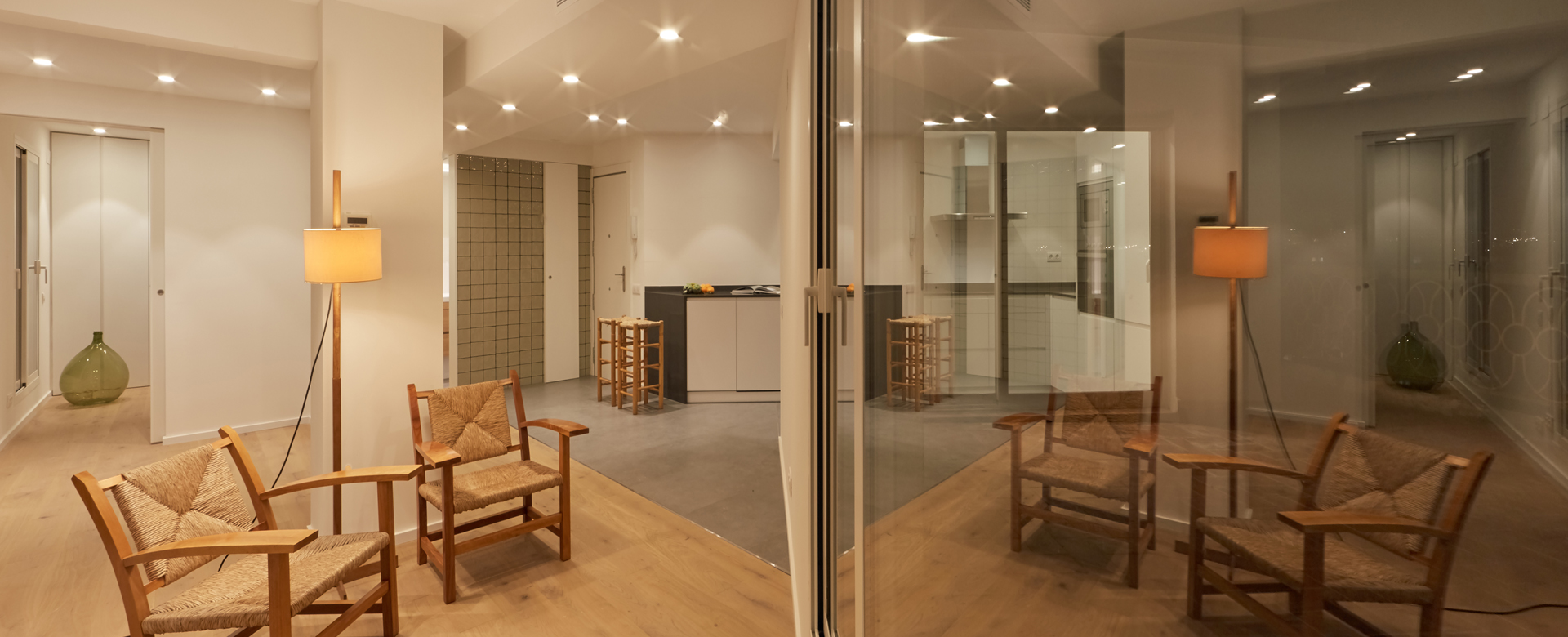 We're standing on a wide, seventh-floor terrace. It extends along two different façades that converge in a southward-facing point. Thanks to the elevation, off in the distance we can see the silhouette of Montjuïc, the Llobregat delta, the north-eastern end of the Massís del Garraf range, and the Mediterranean Sea. A triangular penthouse apartment sits within the terrace, like the bow of a ship slicing through the waves.
This flat has ample views of the exterior off both the port and starboard bow. It seems small in such an immense setting, with windows at regular interviews that bring pieces of the exterior into its confined interior.
Before the renovation, this space was much too crowded—a maze of walls. We whittled it all down, simplifying hallways, reducing the number of rooms, bringing surfaces together. We offered new possibilities: spaces that were as large, open and bright as possible, with no unnecessary separations. We wanted to encourage interactions that could extend from one end of the residence to the other.
We tore down dividing walls and doors. We transformed windows into French doors that opened onto the terrace; we eliminated the bulky shades that reduced the size of the openings and blocked out far too much light. We replaced it all: the separations, the bathrooms, the kitchen, the finishes and the utilities. We wanted it all to be part of one open, continuous space. Sliding glass doors and glass divisions allow the inhabitants to adjust the level of privacy or interconnectedness in each space depending on their needs.
With the floorplan reorganized according to modern criteria, the kitchen and living room now come together at the prow—a broad, bright space. Sunlight pours in from all sides, following the laws of rotation and transfer. If you're there long enough, you'll notice that the beams of light cast onto the floor transform it into a giant sundial.
The compositional axis of the floorplan appears in the flooring and in the dropped ceiling used to house utilities. This cartesian order extends to the far end of the flat, with the bathrooms on one side and the starboard cabins on the other.
Outside, the sun has begun to set and lights fill the interior with a welcoming glow. The sea casts a scarlet hue onto the dimming sky until the darkness finally conceals its immensity. Unexpected night-time reflections appear, and the mirrored interior takes on a new, magical appearance.
Category
New construction