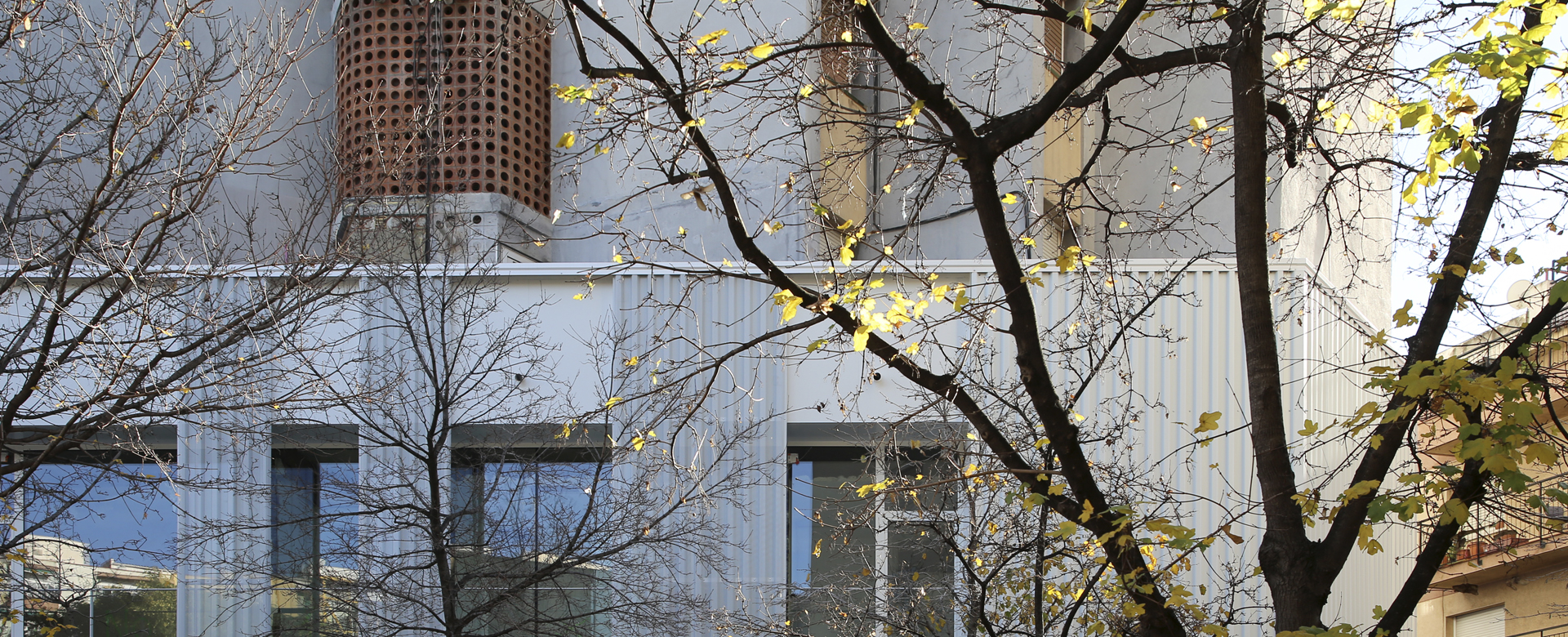 Ciutat Cooperativa Centre
Ciutat Cooperativa Centre
The new Social Centre for the Elderly in Sant Boi's Ciutat Cooperativa neighbourhood is located in what was once the community health centre. This building stands out; it's the tallest in the neighbourhood. It has two floors for shops at street level, with room for the new social centre above. Behind these public spaces stands a residential tower; it occupies a smaller area, but extends 10 floors upwards.
In keeping with the plans for the new social centre, our proposal for the exterior sought to create a façade that sets this floor apart from the rest of the building. It follows the strict perimeter of the polyhedron, while the storefronts are set back at varying depths and sit in the shelter of the resulting overhang.
We also reorganized the existing openings so as to tie together the building's three façades. We used three types of openings: individual windows placed at regular intervals; sets of triple windows that mark some of the centre's most important spaces; and a large, 12-metre-wide window for the main hall. This broad opening presides over the public square in front of the building, as an open eye looking out over the city.
We also took advantage of the renovation of the exterior to improve the building's energy efficiency: a ventilated façade was added, and a layer of insulation was placed between the original façade and the new sheet-metal exterior.
The new exterior consists of ribbed sheet metal panels and trim with a white coating, creating a low-maintenance façade. This also helps the social centre stand out, as a bright new spot in an aged urban setting. This makes it easily recognizable from close up or from far away, with the obvious appearance of a public facility.
A new exterior fire escape stands out against the linear façade. This unique articulated mechanism is suspended in front of the building, and hangs out over the public space below.
The Social Centre for the Elderly is meant to be viewed from an unexpected pedestrian perspective. It's visible here and there in the foliage of trees, from in between the stands of the market held in the square each Tuesday, in the last shafts of light before sunset… There are a range of angles from which to view this new building—wide perspectives, narrow sections—that are always surprising and evocative.