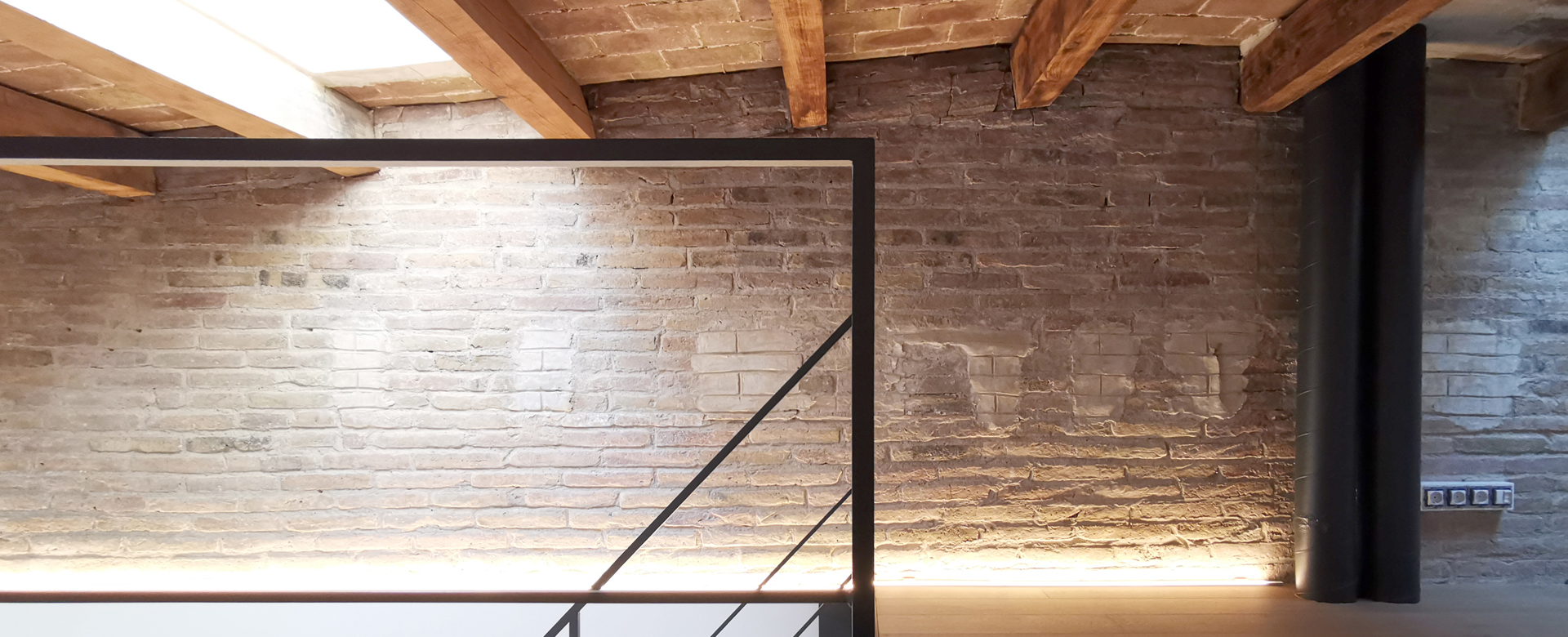 This project involved the renovation of an old townhouse. In the existing building, the living space was on the ground floor, with a number of add-ons extending out towards the rear patio. The first floor was an open, empty space used for drying crops. Now obsolete, the existing spaces could not simply be re-conditioned.
However, the home's main structural elements were worth emphasizing: party walls made of solid brick; a typical, historic façade; a ground-floor ceiling of metal beams spanned by vaults; and a ceiling of squared wooden beams spanned by ceramic tiles on the underside of the roof.
Current regulations allowed 4 metres to be added to the house's depth, and permitted an additional level.
The main building, consisting of a ground floor and first floor, was renovated. All add-ons of little value were eliminated, except for a single structure at the far end of the patio. Then, the building was expanded to take full advantage of the maximum permitted depth and height.
The new addition houses the living room on the ground floor, where it serves as a continuation of the antique interior on one side and of the garden on the other. A single, open kitchen and living space was designed to link the old and new sections of the house, while permitting the entry of sunlight. The original ceiling of beams and vaults was left visible.
The first floor houses the master bedroom and other bedrooms. A double-height hallway was also created, showing the restored wooden beams and ceramic tile on the underside of the roof.
On the second floor, an additional room takes advantage of the attic space and extends out towards the terrace.
The added area at the back of the building also houses the stairwell, which ties together the different levels from one corner of the house and moderates the sunlight coming in through the rear façade. These delicate stairs combine a metal structure with wooden steps, allowing the full-height stairwell to serve as an extension of the open spaces it connects.
The antique character of the front façade is preserved in spite of the obligatory addition of a garage and a new, reinterpreted front door. However, once we step through this entrance, we find ourselves in a brand-new home that combines the open, fluid spaces required for modern life with the restored elements (vaults, wooden beams, tiles, brick walls, rubblework…) that give the space its warmth and personality.