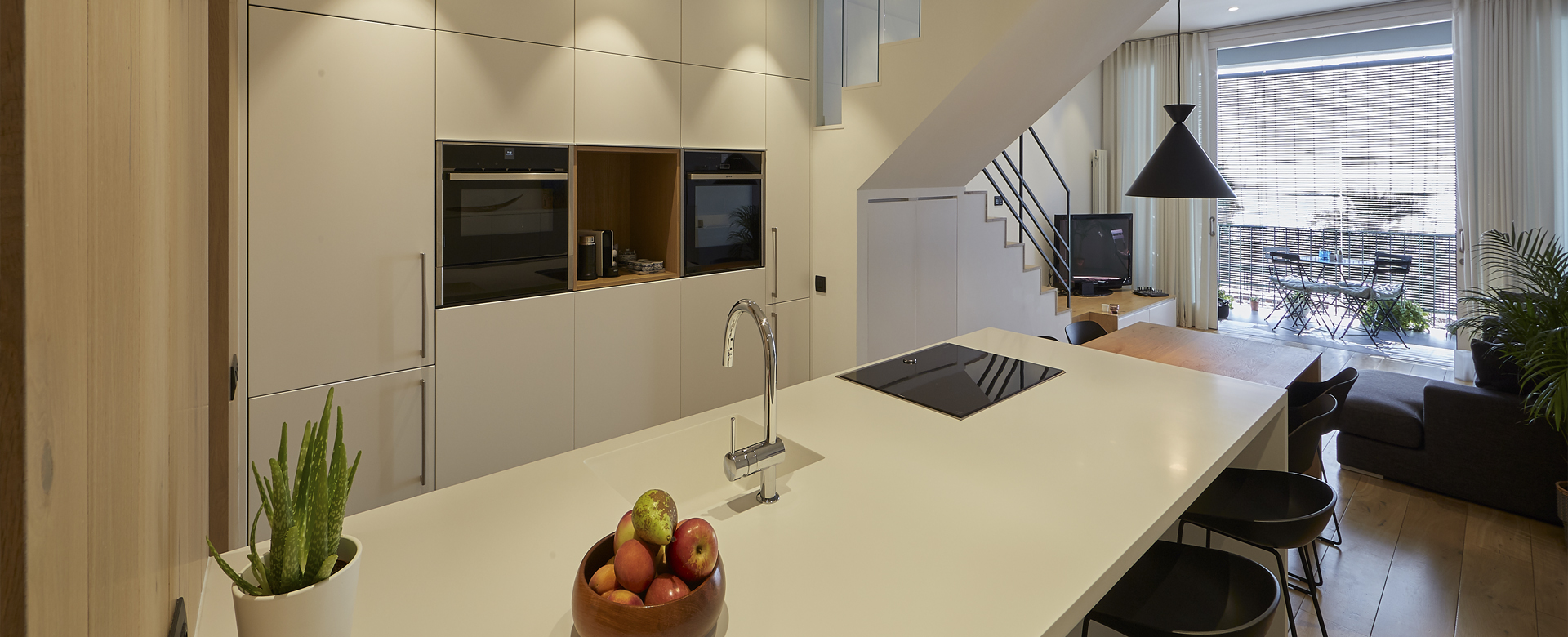 This two-level townhouse looks out over two different streets. It's accessed from a back alley, but also opens onto a seaside promenade. It has a long, narrow floorplan, with little natural light between the two façades.
Here, our job was to renovate an existing home. We made few changes to the layout: the entrance stair still leads from the street below to the middle of the first floor. On one side sit the kitchen, the stairs to the second floor, the living room, a balcony and the sea. On the other sit a bathroom and study. Upstairs, we find a living space/hallway. On one side of that lie a central bedroom and a bedroom with a balcony. On the other, a bathroom and a terrace.
The roof was entirely redone using a wooden structure. It was painted white to make it blend in with the interior light and with the spaces it protects. At the crest, openings were made to let light in, and a new loft illuminates the central room and converts it into a double space.
Wooden floors provide warmth to a number of different areas, namely the bedrooms and living rooms. The kitchen and bathrooms have tiled floors—still, wood makes an appearance to serve as a chromatic counterpoint.
Now, the kitchen opens onto the living room. Set in the middle of the floorplan, it used to be closed in by walls, a dark space with little contact with the exterior. But now it sits proudly at the centre of the home, adding its dimensions onto the stairway, the living room/dining room and the front terrace. It takes full advantage of the exterior light, the atmosphere and the sea below.
Two new doors were cut into the load-bearing wall on the back side of the kitchen; they control access to the ground floor and modulate the relationship between the front and the back of the house. Nevertheless, they also provide a view from one façade to the other, maximizing the home's dimensions and allowing natural light to pour throughout the residence.
The stairs were also covered in wood. The first step was extended and has practically become a space of its own that opens onto the living room. These stairs tie together both the different spaces on the same floor and the two levels, serving as an open link between the kitchen, the living-dining room and the living room-hallway above, from the back terrace to the seaside balcony.