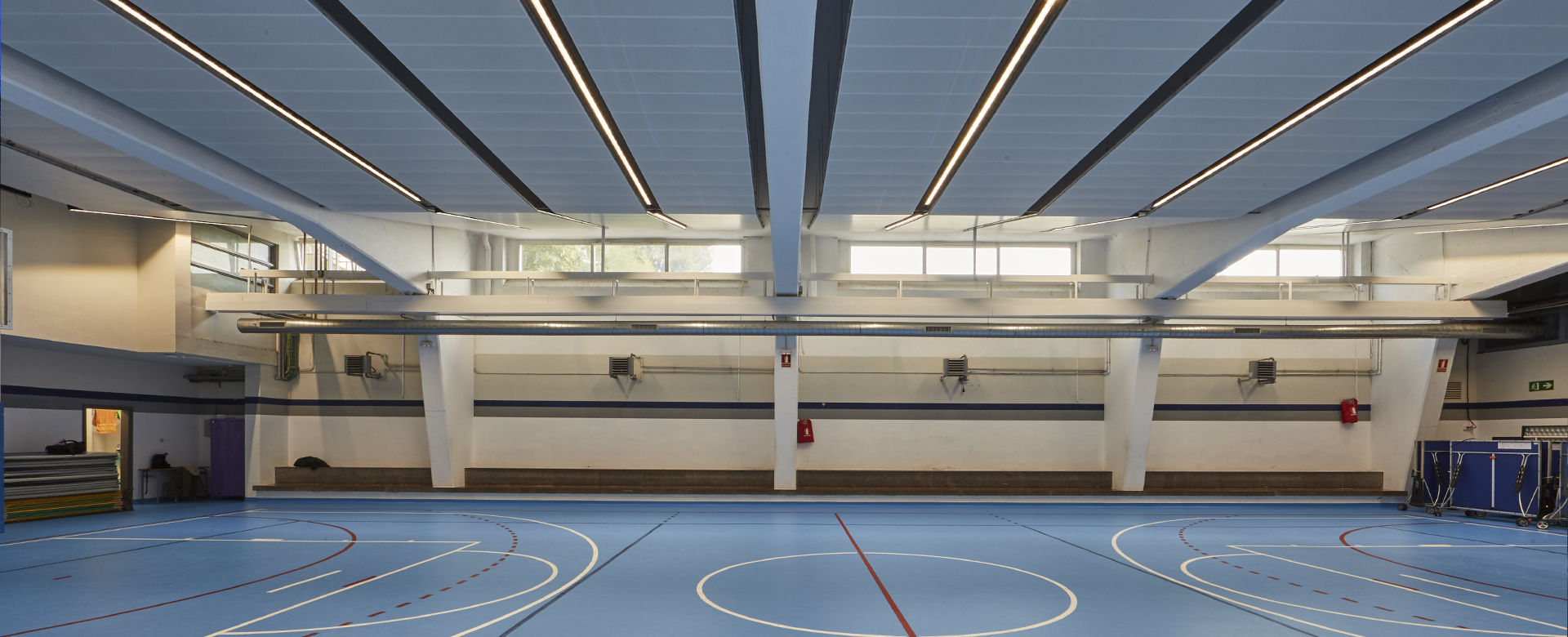 Gym and locker room Lycée Français
Gym and locker room Lycée Français
The primary school building of the Lycée Français in Barcelona includes a gymnasium and locker room on the second basement level. The gym is a large space held up by a series of concrete portal structures. A tall semi-basement, it includes a row of windows along the top of the side walls.
The adjacent locker rooms date back to when the building was first built. Outdated and in poor condition, they were nearly unusable. The client wanted to renovate them entirely, and also to improve the acoustics of the gymnasium.
An acoustic dropped ceiling was proposed for the gym. Conceived as a series of bands that break with the polygonal geometry of the space, they flip the shape of the beams on its head. They slope downwards from the high points on either side, towards a central section that hangs over the space below. White-coloured sheets of microperforated metal reflect light down onto the floor. The entire space suggests weightlessness. The light is magical. Noise is sparse.
The open spaces between these bands house new linear lights. These lines are set between the repeating girders, creating a virtually mathematical rhythm that extends entirely across the space, giving it a new geometry.
The locker rooms are for primary school students, and our intervention was measured. They need to be simple, clean, and bright. The spaces, materials, and layout had to be designed for long-term use by the school.
This project surprises visitors, with unexpected access to the locker rooms from the hallway leading to the gymnasium. The new entrances for boys and girls face one another, acknowledging and enlarging the central point. A playful dialogue is established between the two doors, each one with its defining colour and characteristic figurative cut-outs.
In collaboration with estudi nus. Pictures by Anna Galí