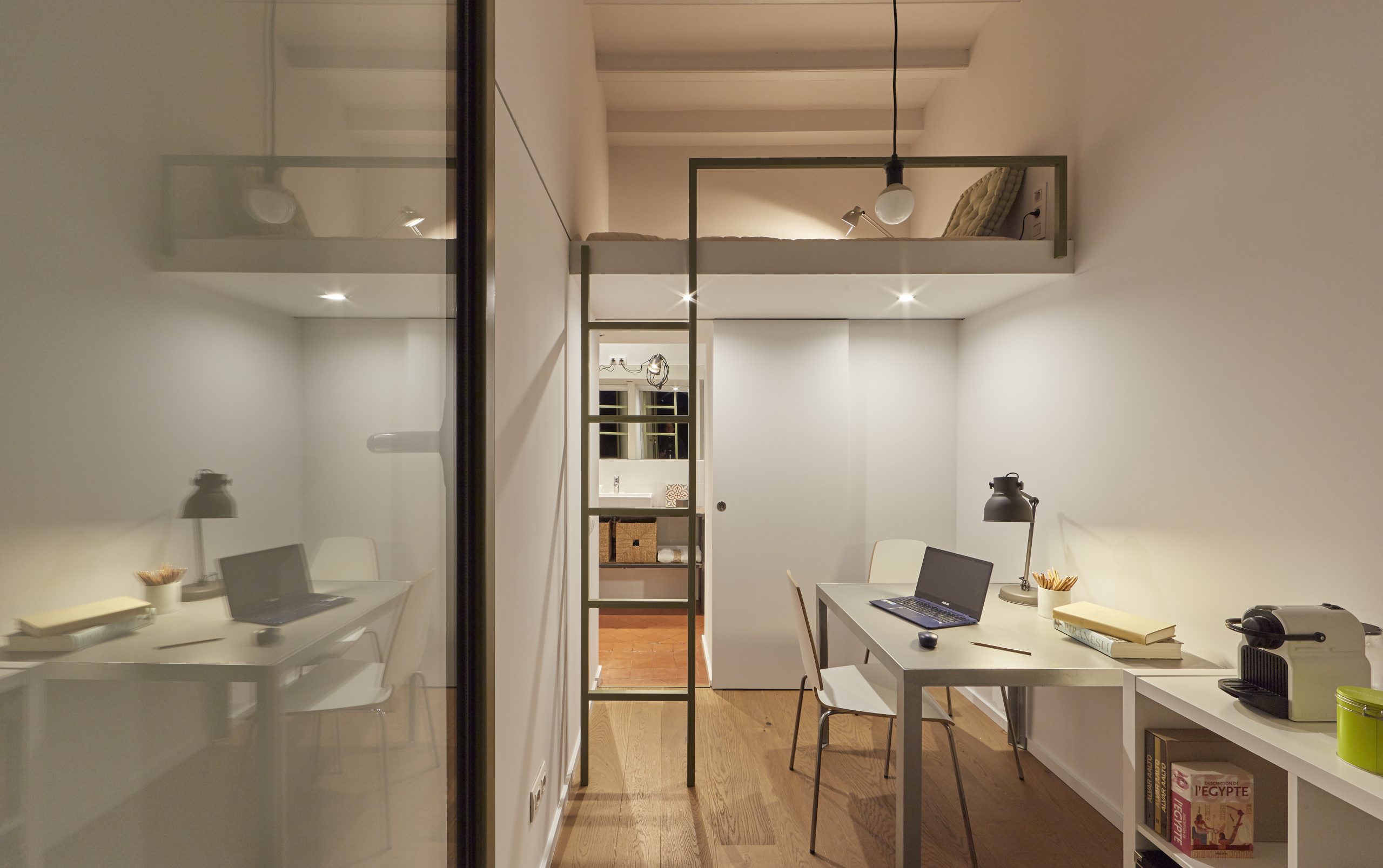 In an old building, we were asked to imagine new rooms that could be rented out to young students. The existing space was part of an old flat with high ceilings, which gave us a chance to compartmentalize the layout by playing with the full volume of the space. The entryway and the terrace at the back are shared elements that can be added to the rooms before and after, generating a suggestive architectural sequence.
At the entrance to the living space sits an entryway that also provides access to an area separate from the bedrooms; stepping through a double door, we find ourselves in the first common spaces. There isn't much: a small closet, an open sink and the rest of the bathroom behind our first sliding door. This central area is crossed by a perpendicular axis that starts at the terrace and extends past the two new bedrooms. It also includes a mirror that reflects the different spaces, elements, dimensions and lights, making them seem twice as big.
Two sliding doors close off or connect the private rooms with the shared space, as needed. The private bedrooms are austere, rectangular, and clean. A first space is defined by a low ceiling and a ladder that stands in our way and offers a path upwards. The rest of the room extends all the way up to the beams and ceramic vaults in the original ceiling. The relationship between this tall space and the sleeping loft makes these rooms unique. Finally, we can cross the room and step outside, where the private spaces come together in a broad, tall, open terrace.
Here, the materials are also austere. The walls, ceilings and doors are painted white. Part of the old tile flooring is preserved; it's imperfect and worn, two adjectives that, in this case, are positive. The bedrooms have wooden floors that make them feel warmer. A grey-green colour covers one of the walls in the bathroom and highlights the stairs and woodwork. Glass transom windows emphasize the high ceilings, allow light to pass through, and provide a new dimension for the upper part of each space.
In the evening, these rooms take on their true form. The dimming natural light makes the space more welcoming while also making studying and reading more intense. Outside, the terrace encourages us to make the most of what's left of the day and to spend it together.
Category
New construction