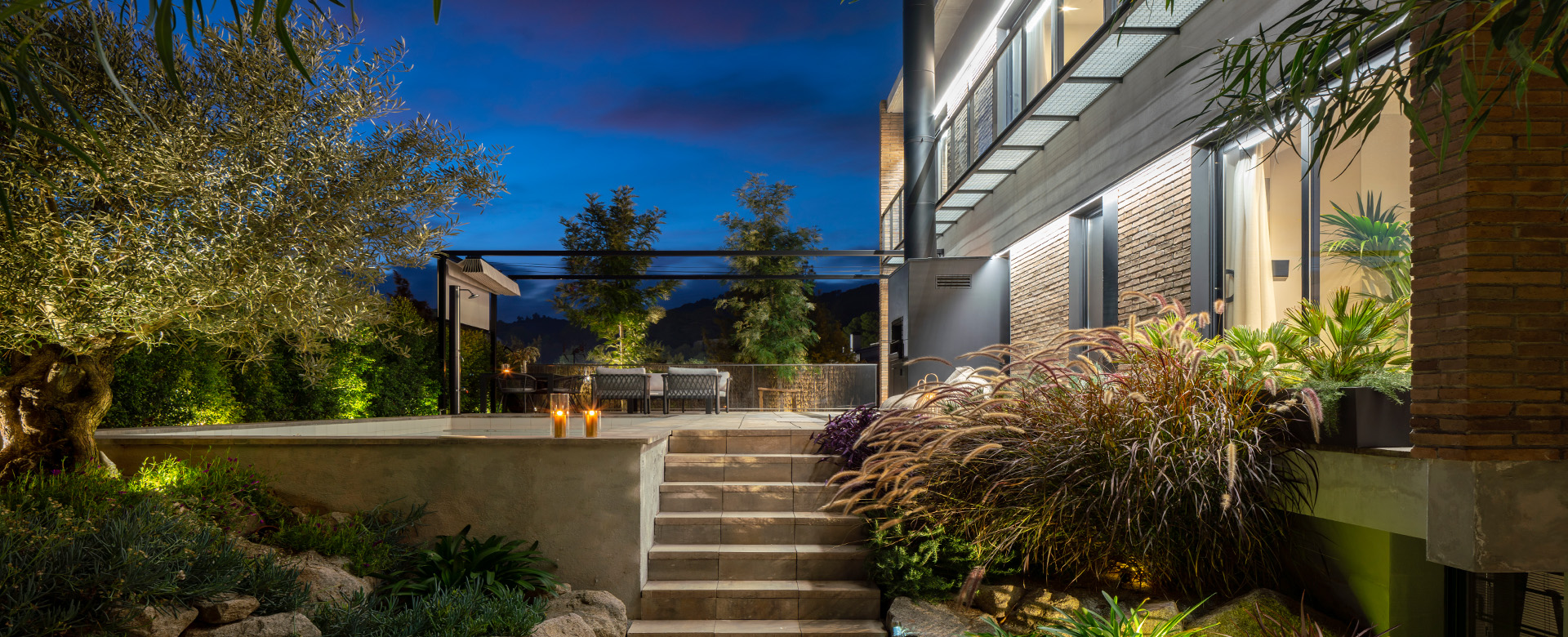 The street sits at a height halfway between the ground floor and the basement. The façade facing it is entirely closed, a strict wall of handmade brick without windows. Access is always tangential. As we ascend half a level, on the north side an entrance walkway extends across the back of the house. On the south side sit the garden, a pool, and the entire terrace. A ramp in the back takes us down to the parking.
Below sit a three-car garage, a laundry room and a space for utilities. There's also a small multi-use room illuminated by the light that comes slanting in from the garden. It's connected to the living spaces by a flight of stairs.
The ground floor is open. The living room, the kitchen, the fireplace, the library, the bathroom, the stairs, the elevator, the connections in between… it's all part of a single expanding, flowing space. It even stretches outdoors, onto the terrace, which is backlit by its south-facing orientation. The blue of the pool brings colour and light to the house, with the shifting reflections of the water as an extra touch.
The upstairs is simple; the stairs carry us up to an open central hall looking out over the yard. The floor includes strips of glass that look down onto the living room below, creating a two-level visual relationship. The space is luminous, lightweight, airy. Two practically-identical bedrooms sit opposite one another, each with room for a bed looking out onto the garden and a private bathroom that opens onto the opposite façade.
A long balcony runs outside the windows, from one side to the other. It's designed both for maintenance and to allow the whole upper floor to open onto the garden.
The main façade is the one that looks onto the garden and the pool; the long side, the southern side, the most private side. Contained by the brick walls on the two short ends, it's geometrically organized into two elongated rectangles, one on top of the other, with full-height openings alternating with closed sections in an alternate, imperfect, almost musical pattern.
This cuboid architecture flows in modulated, unexpected sequences—like the strict geometry of a piano that can offer infinite harmonies.
Pictures by Simón García
Category
New construction