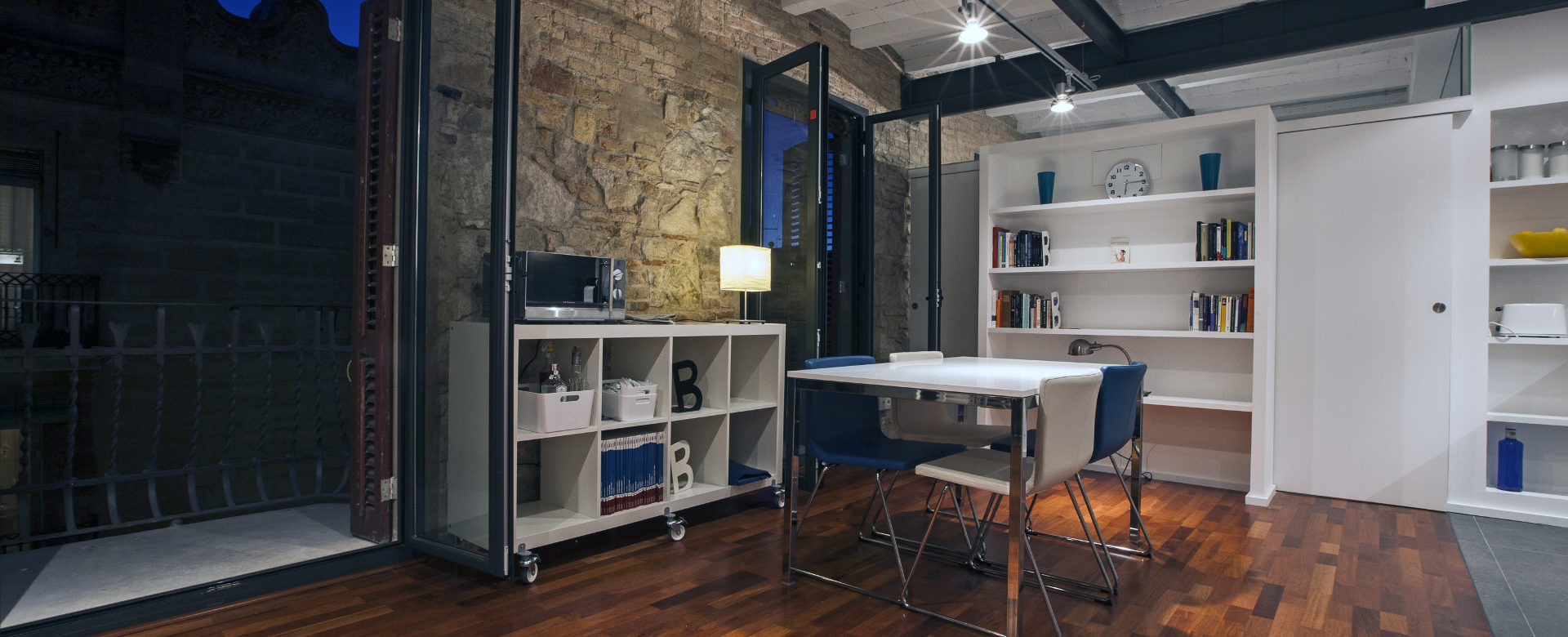 This is a corner flat on the top floor of a building from 1900 in the Poble-sec neighbourhood. It has four south-facing balconies and two east-facing balconies. Its position high above the street allows it to dominate the neighbourhood, providing it with distant tangential views and, above all, privileged natural light.
The floorplan is a 12.50 x 5.50-metre rectangle. The balconies are an important element in this residence, because of both their number and good orientation, and, finally, because of the size of the balcony that stretches out over the façade.
Our proposal suggests a single space extending across almost the entire flat, along the two exterior walls, with a rhythmic sequence of six balconies. The different uses also follow one after the other, with a bedroom, a workspace and a living space. A second, interior section includes functional spaces like the open-concept kitchen connected to the living area, two bathrooms and a laundry room. This series is punctuated with mobile elements, with high glass separations and different types of flooring and ceiling heights.
This project rediscovers the original ceiling and walls, stripping away their coverings. The ceiling is made of wooden beams and tiled vaults, while the walls are made of stone. Left visible, with all their coarseness and tectonics, they coexist with the warmth of the new wood floors and the strict lines of the tiling and dropped ceiling in the functional section.
This intervention rereads and updates the existing space, emphasizing its maximum interior dimensions, absorbing the outside atmosphere and landscape, optimizing its useable area, eliminating hallways, removing divisions and connecting uses and spaces to ultimately suggest the contents of a new, open, easily-inhabited residence.
With Espai Vives