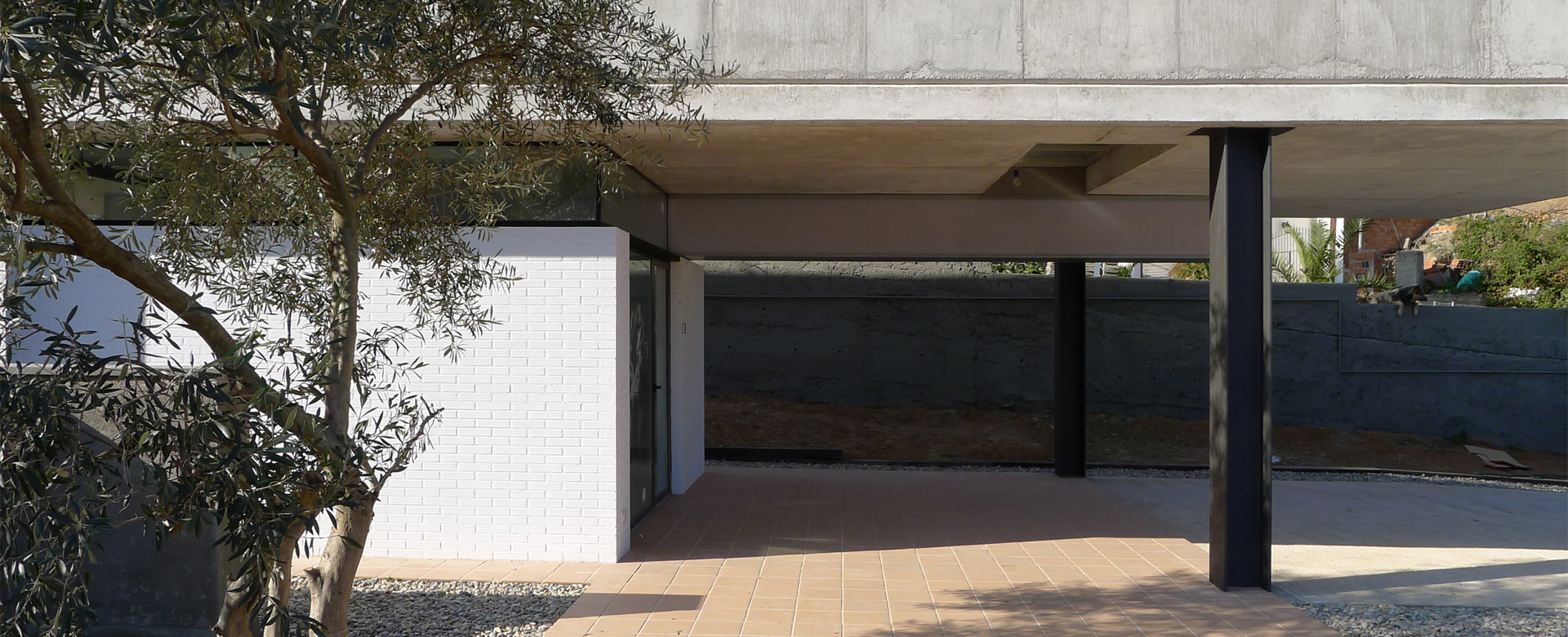 This house is a parallelepiped with concrete walls and ceilings; it sits on four metal pillars. The concrete box is 18x6x3 metres; all the living space is within, on the first floor. Meanwhile, the garden extends below it, surrounding the small enclosed structure that serves as an entryway. Because of the building's location, it was very important to carefully manage any views of the surrounding area. It sits in a small valley, in the middle of a dense, somewhat disorganized suburb where the neighbouring houses extend indiscreetly up the slopes on either side. There are no ample views, and in the colder months there's limited sunlight. Furthermore, the terrain requires a particularly deep foundation, a need that was met with just four foundation wells. Finally, the economic recession limited the size of the home, which all fit inside this elevated concrete box.
The long lateral walls are surprisingly austere, with no openings. They serve as two18x3-metre beams that extend 4.5 metres beyond the pillars that support them. Although the structure is quite heavy and blunt, it has a lightweight, subtle appearance. The home seems to float above the ground with plenty of room below it. It's as if it were just resting for a moment, with no need to cast down roots—at any moment, it just might continue on its way. It follows its own, introverted rules with little concern for what's going on outside. The only views to the exterior are through either end. One end looks out over the street, while the other takes advantage of the only distant view—the mouth of the valley. Opposing beams of light enter through these two openings and traverse the home from one end to the other. The heart of the house is a central, two-level space where all the action happens. A set of stairs provide access to the residence and, once at the top, we get a view of the whole interior, from left to right and front to back. Finally, we see the top-to-bottom dimensions of the home and six large skylights above us.
The concrete structural tectonics of the house provide its expressive force. Inside and outside, the imprint of the formwork in the walls and ceiling provide a chromatic counterpoint to the whitewashed dividing walls, the black metalwork borders and the warmth of the wooden flooring. Large panes of glass enclose different spaces, filling the home with transparencies and reflections that enrich its intimate personality and make it even less dependent on its surroundings, on neighbours ignorant of what's going on inside.
Category
New construction