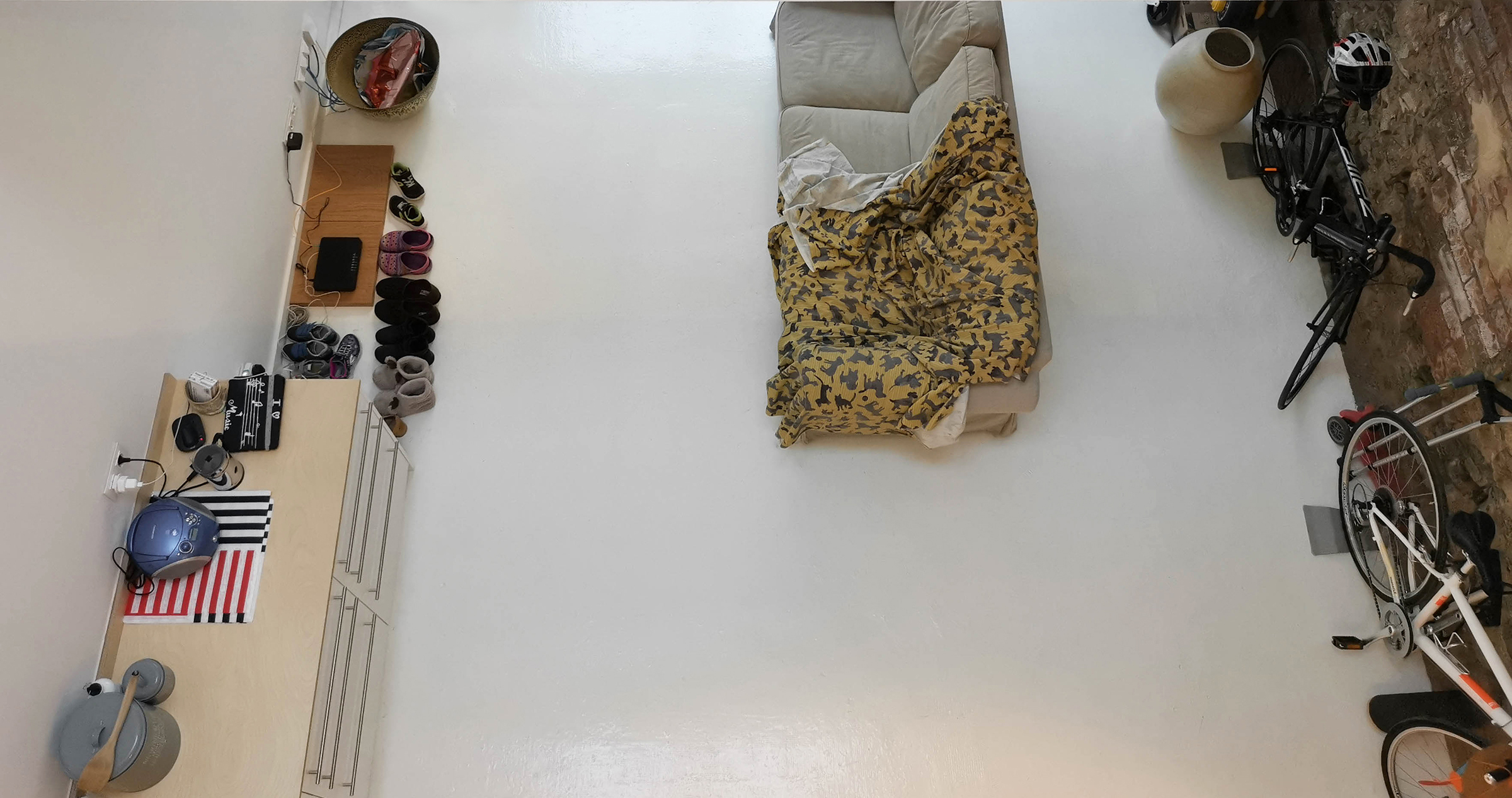 This building was raised between two party walls. It extended all the way to the back of the lot, so there was no patio. The ground floor had served as an old electrician's workshop. Upstairs was a flat with a terrace at the very back. The construction was extremely mismatched: there were old ceilings with wooden beams and rebuilt sections with cement beams bridged by ceramic arches; the building was covered partly by a pitched wooden roof and partly by a flat terrace. Modifications over time had turned the house into a disorderly jumble.
First, we demolished the rear of the workshop and uncovered a patio. Now, the back wall of the ground floor lined up with the back wall of the flat. We decided to maintain the stairs that brought us to the first floor, since they were one of the most stable parts of the house. We had to replace the whole of the pitched roof, which was in bad shape. We were left with an abandoned workshop-and-flat that we had to re-imagine as a living space.
The decision that started the project was to widen an old lightwell that stood in the middle of the floorplan, transforming it into a triple-height space that extended from a new skylight in the roof all the way to the ground floor. It now serves as the heart of the house; furthermore, the fact that this new space is separate from the stairwell makes it a sort of contemplative opening between floors and different spaces that face one another. 
The stairwell serves as a second lightwell with its own skylight. We extended the stairs one floor up to reach the new attic, a space that extends from one lightwell to the other.
We went from a dark building to an incredibly bright one with a volumetric richness that was unthinkable when we first stepped inside. It's now full of spaces crisscrossed by views that cut through the rays of light that penetrate the roof and fill the home from every angle, throughout the day and 365 days a year.
Below sits the ground floor. Where does it get its light? The street, the stairwell, the triple-height space, or the rear patio? A white-painted floor reflects light back up towards the ceiling; as a result, the space is luminous and magical. Only a bare-stone wall that extends from one end of the floor to the other anchors us to the earth.
Category
New construction